中世纪气候异常期和小冰期AMO与PDO对中国东部夏季降水的协同影响
[发布日期: 2023-09-07 浏览量 354]
【中文介绍】
中国东部夏季降水存在显著的年代际变化并且和AMO及PDO密切相关。然而,现有器测资料时间较短,限制了我们对这种关系及其背后机制的理解。另外,该联系在未来是否会发生变化尚不清楚。鉴于此,有必要了解在过去不同的气候背景下,AMO及PDO对中国东部夏季降水的协同影响,以加深对降水年代际变化特征及机理的理解,从而更好地应对未来具有挑战性的气候环境。
为此,课题组采用五个气候模式的实验数据,模拟研究了在过去千年较暖的中世纪气候异常期和较冷的小冰期中,AMO和PDO对中国东部夏季降水的协同影响。模式集合平均结果表明,AMO和PDO不同相位组合对降水的影响在两个时期不同。在中世纪气候异常期,与PDO相联系的西北太平洋对流加热所引起的经向波列对降水变化有较大影响,而与AMO相关的纬向波列的影响是次要的。在PDO+相,华南地区降水减少,反之亦然。同时,长江流域以北大部分地区在PDO+/AMO+相呈降水正异常,在PDO+/AMO–相为负异常。黄淮河流域和东北南部地区在PDO–/AMO+和PDO–/AMO–相分别呈降水偏多和偏少。而在小冰期,AMO引起纬向波列的位置较中世纪气候异常期偏东南,从而主导了降水的变化。在AMO+相,东北和华南地区降水偏多,反之亦然。此外,当PDO与AMO同相时,这两个地区间的降水减少,异相时,两个地区间的降水增多。
【英文介绍】
The eastern China summer precipitation (ECSP) exhibits interdecadal variation and is related with the Pacific Decadal Oscillation (PDO) and Atlantic Multidecadal Oscillation (AMO). However, this relationship is based on limited instrumental data. In addition, whether this linkage at present is applicable in the further remains unclear. Thus, we need to investigate the joint impacts of the AMO and PDO on the ECSP under past different climate backgrounds, to deepen our understanding of the interdecadal variations of eastern China summer precipitation and to better cope with the challenging environment of the future.
In this study, we use simulations from five climate models to investigate the joint impacts of the AMO and PDO on the interdecadal variations in the ECSP under past warmer (i.e., the Medieval Climate Anomaly; MCA) and colder backgrounds (i.e., the Little Ice Age; LIA). The multimodel mean indicates that the ECSP anomalies under the four combined AMO and PDO phases differ between the MCA and the LIA. During the MCA, the meridional wave train induced by the PDO-related convective heating over the northwestern Pacific is dominant and the zonal wave train related to the AMO is secondary. Deficient precipitation appears over South China in both PDO+ phases and vice versa. Meanwhile, most areas north of the Yangtze River valley feature positive anomalies in the PDO+/AMO+ phase but deficits in the PDO+/AMO– phase. In comparison, the Huanghe–Huaihe River valley and southern Northeast China receive excessive and deficient precipitation in the PDO–/AMO+ and PDO–/AMO– phases, respectively. During the LIA, the zonal wave train induced by the AMO locates more southeastward than that during the MCA and has an overwhelming impact on the ECSP. Specifically, excessive ECSP exists over Northeast China and South China in both AMO+ phases and vice versa. Moreover, precipitation between the two regions is excessive when the PDO is in phase with the AMO but deficient when they are out of phase.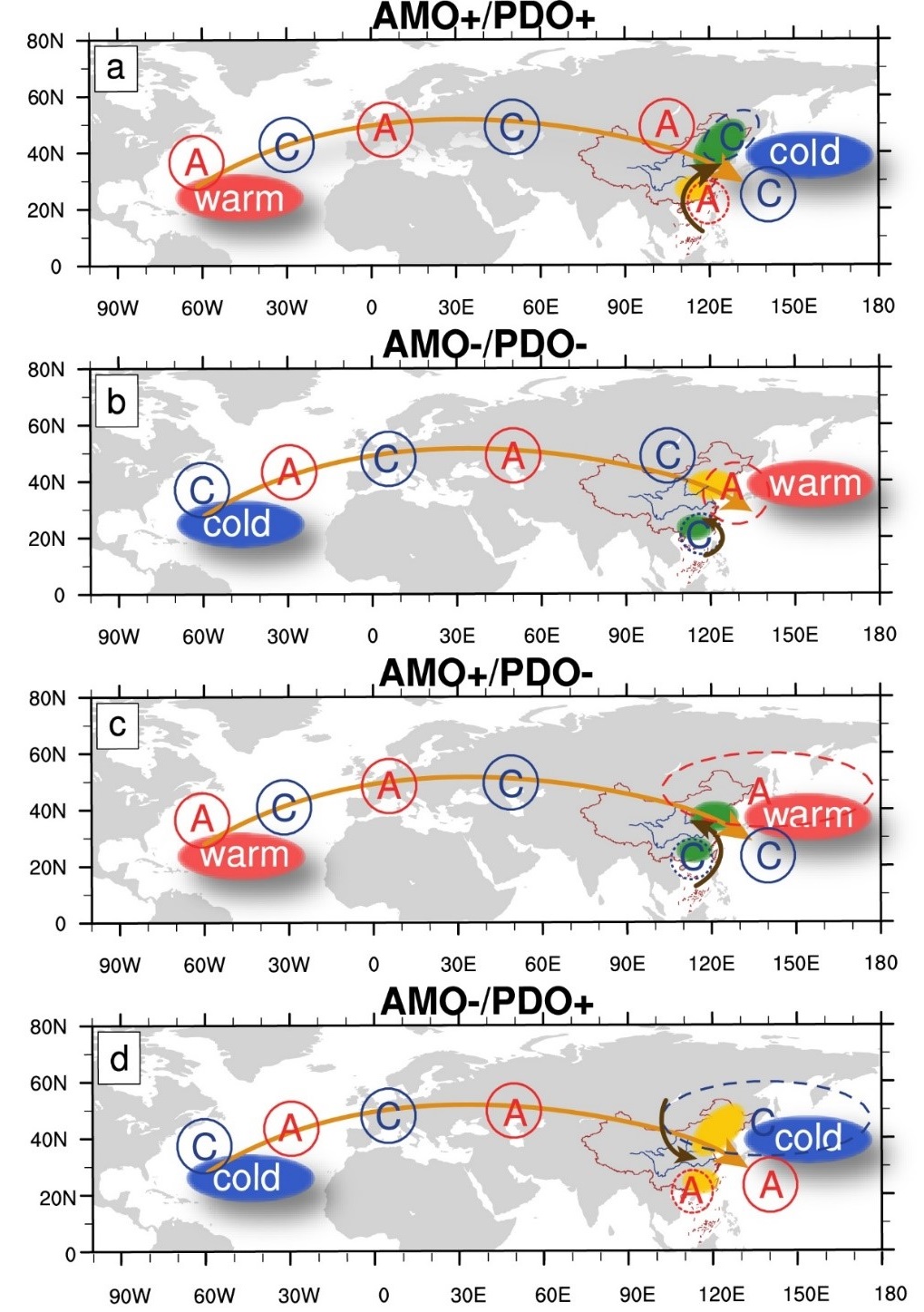 图1 中世纪异常期,AMO及PDO对中国东部夏季降水协同影响的示意图。红色和蓝色阴影区分别表示暖海温和冷海温;绿色和黄色阴影区分别代表降水偏多和偏少;带箭头的棕色曲线表示风向;带箭头的金色曲线表示大气遥相关波列;实线圈和点线圈分别表示与AMO和PDO有关的环流异常,虚线圈表示受其协同影响的环流异常。
图2 同图1,但为小冰期的影响示意图。
【引用格式】
Ge, Y., Miao, J., Lang, X., Si, D., & Jiang, D. (2023). Combined impacts of the Pacific decadal oscillation and Atlantic multidecadal oscillation on summer precipitation in eastern China during the Medieval Climate Anomaly and Little Ice Age. Journal of Geophysical Research: Atmospheres, 128(16), 1–22.